John Torodes Flapjack
Ingredients
6 sheets of rice paper (edible)
50grs butter
50grs treacle
50grs golden syrup
50mls maple syrup
50grs Dried apples
50grs Dried figs
50grs Dried mango
50grs Sultanas
50grs Raisins
50grs Dried mixed fruit
100grs granola
100grs porridge oats
50grs whey powder
I packet popping candy
Method
Melt the butter and all the wet stuff in a pan and bring to the boil. Remove from the heat.
In a separate bowl, mix everything else together and then combine the two and mix well until all dry contents are wet and sticky.
Line a tray with rice paper and pour in contents. Press down flat with another sheet of rice paper
Bake at 160 for 20-25 minutes.
Cut it into bite size chunks (leave the rice paper on – its edible)
---
Butternut and Cinnamon Oats
This recipe is courtesy of BBC Good Food magazine.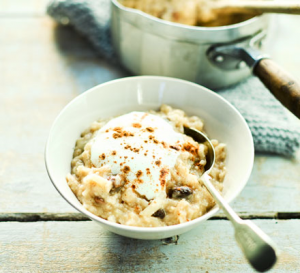 A healthy low-fat filling breakfast with spicy sweet flavours of pumpkin pie
Ingredients
120g porridge oats
80g raisins
2tsp Ground cinnamon, plus extra to serve
320g butternut squash, peeled and coarsely grated
2 x 150ml pots bio yoghurt
25g walnuts, roughly broken
Milk (optional)
Method
Tip the oats, raisins and cinnamon into a large bowl and pour over 1 litre cold water and leave to soak overnight.
Next morning, tip the contents into a large saucepan and stir in the grated squash. Cook for 8 – 10 mins over a medium heat, stirring frequently, until the oats are cooked and the squash is soft. Add a little more water if it's too thick.
Put half of the mixture in the fridge for the next day (leaving it to cool first). Spoon the remainder into bowls, top each portion with yoghurt and nuts. Dust with extra cinnamon then add a splash of milk, if using.