With Captain Pugwash quarantined in the highly infected area of the Peak District, this week's blog comes courtesy of Michael, who, hopefully, remains one of the few who remains Corona-Virus-Free.
It's a cold morning but the sun is shining bright. The brave, committed and sturdy Knights – nine in total – the only ones yet to be succumbed to the deadly virus, meet at Manor House at the slightly later time of 10.00am – the Cobra Committee giving them clearance at the final hour. Three of these apparently immune brave soldiers had taken little notice of government directives and meet 15 minutes earlier at Market Cross.
Chad, James and Michael nonchalantly pedal away to meet the rest of the brave Knights – but what's this? Westwood hill is upon us and Chad – clearly knowing that he hasn't been given the all clear – self isolates and proceeds to sprint, leaving James and Michael way behind. We best avoid any contact with this deviant………..
We regroup at Manor House – with Chris, Steve, Russ, Seadog Dave, Karl and Ray already waiting. It is noticeable that all nine Knights have face masks (head gear) on – despite government advice that masks provide no protection. But, rightly, we don't trust the present Johnson-esque incumbents and take precautions nonetheless. Luckily it was cold, so our apparent innocence prevails.
Routemaster Ray suggests a route that takes us to Goodmanham, via rural areas largely unaffected, through Newbald North, Newbald South, Hotham, North and South Cliffe and Inner Sancton, where we regroup to check we're all okay. At this point, Karl reveals that he's been ill during all of February. Was he holding back that he'd already caught the virus? Was he secretly trying to infect the remaining eight apparently indestructibles? No, he assures the crew – it was just a case of man flu (apparently).
We ascend, then descend Sancton hill, and regroup at the bottom. But what's this? Chris – who had clearly not been vaccinated against punctures (hence his earlier incident in inner Sancton), veers off home. Has Karl infected him? Is he one of those carriers who happily infects others but is immune himself? The jury is out…….
The remaining 8 head off to the Fiddle Drill. Surprisingly, it is busy. With little space, Steve sits in the isolation pod. Bad move, as it is reserved for someone more susceptible to Co-vid 19. We are clearly not the only ones yet to succumb to Corona.
As we eat our hopefully uninfected nourishment, Ray is at his comedic best. Michael mentions he's hoping to do El Teide next year for his 50th birthday when in Tenerife with his wife. "I did El Teide last year", says Ray. "Wow", says Michael……………….. "In a Vauxhall Sephora", says Ray…..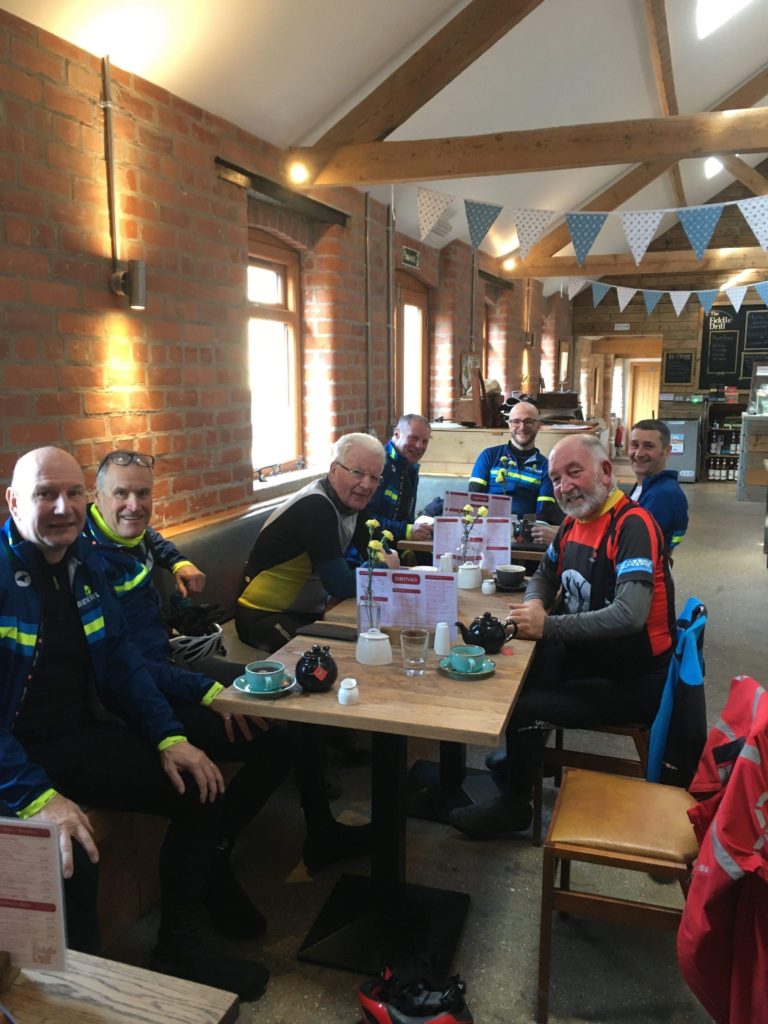 And the humorous tip of the day also comes from Ray. "If you're knackered up a hill, save face when getting off your bike knackered. Get your camera out and pretend you're taking a photo while recovering". Great tip Ray – I'll do that! And Ray's comedic genius isn't over as his second tip of the day is revealed. "Shoot a line of coke before you set off and there ain't no mountain high enough." Marvellous!
The uninfected Knights (notably poached eggs were not allowed) head back home, via the usual route, apart from a lovely detour through the 'Pipe and Glass estate'. This was halted slightly – a huge gathering of posh stiff upper lip hunter types on horses – hundreds of them. If the Knights did politics (which we don't) I'd say more…….
If we're still Coronavirus free next week, we'll see you then! Until then , keep healthy!