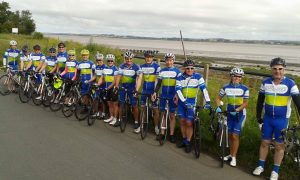 On Friday 30th June, we all met at the squash club to set off on the Beverley Knights away day to complete the Hadrian's wall cycle route – C2C.
Key and Vicky were in the support van with all the bikes and the rest of us were in the minibus.
Taking part were Neil, Heather, Andy, James, Mark, Martin, Louise, Simon, Dave, Jenny, Matthew, Nick , Graham, Stephen and Sharrin. After a scenic tour of Beverley to collect Andy we headed towards Catterick for a fish and chip tea and to collect Andy and Ruth who would be driving the minibus across the route.
After the fish and chips there was still space for birthday cake – happy birthday Stephen!
Once in Carlisle (and once we discovered there was more than on Premier Inn) there was time for a quick beer and review of the route ready for the next day.
Saturday morning started with a cooked breakfast- energy loading! (But not much space available after the fish and chips and chocolate cake!)
Driving to the start at Bowness-on-Solway it was great to see blue skies appearing.
Group picture at the start and then we were off …. only to stop 692m later with a broken chain on Stephen's bike- luckily Andy and Dave were equipped to sort the problem and it wasn't too long until we started again.
The first 20km was lovely heading along the Solway firth with the sun out and wind on our backs. Once through Carlisle we headed out to the countryside and enjoyed stunning views – and then will welcome sight of Kev and Vicky for our first snack stop.
Once fuelled up it was time to head up those non-existent hills! And to discover Hadrian's wall – at the tops we were treated to more fantastic panoramas.
A puncture stop for Graham was the second mechanical of the day. Neil, Andy, Dave and Stephen headed back to Graham and Simon to help with the repair whilst the rest headed onto the lunch stop. The descent down off the top to Fourstones was memorable- this descent didn't involve any falling branches trying to take Jenny out!
We were then greeted with the sight of the support van decked in balloons – they had set out picnic tables with a buffet and a camp stoves to heat the kettle and soup – epic!
After lunch, it was time for the last half of the ride and despite it being the flat part of the route there were still a few hills left to do –we then had to say bye to Simon who had to pull out after a very respectable 91km. It was then a ride along the river and through the cycle tracks towards Newcastle- only slight hitch was missing the support vans final stop of the day! It was a bumpy ride heading along the tracks – avoiding pedestrians, dogs and potholes! Then it was onto the Quayside in Newcastle avoiding Stag parties!
To finish it was an 8 mile ride up from Newcastle to Tynemouth and the welcome sight of the finish.
A great achievement for us all – one of the best group rides to date – weather perfect, wind behind us most of the way, great company and then a celebration at the vans with a well-deserved beer or prosecco. First 100-mile ride for Jenny and longest one for Graham this year (veteran coast to coaster!)
After a quick turnaround, it was time for a meal, a few drinks and a tour of Newcastle bars for some. End to a perfect day
Thanks to Neil and Andy for organising, to Andrew and Ruth for driving and to Kev and Vicky for fantastic catering!
Looking forward to the next one!