"Coddling Catfish, how many ships have we today?" thought Captain Pugwash as he surveyed the assembled fleet. "Looks like a bakers dozen" after counting round. Route master Greybeard decided to abdicate navigational duties and cast his net for suggestions. "Careful what you wish for" sprang to mind as he allowed Captain Pugwash to take the lead.
Captain Evan Jones (A Welsh born pirate from New York) introduced a quizzical element regarding the cafe of choice, which had the fleet scratching heads for a few seconds, before agreeing that good plunder can be found there.
The fleet headed out towards Weel and Tickton with Anne Bonny, an Irish pirate alongside Mary Read, an English privateer, leading the way. On reaching the Tickton crossing, a huge "chapeau" to the lorry driver who stopped to allow our safe passage across the busy road.
The dull weather did not dampen spirits as the fleet continued through Meaux and on to Long Riston. Captain Greybeard suffered a mishap as we exited the underpass forcing him to careen his vessel to effect repairs to the hull.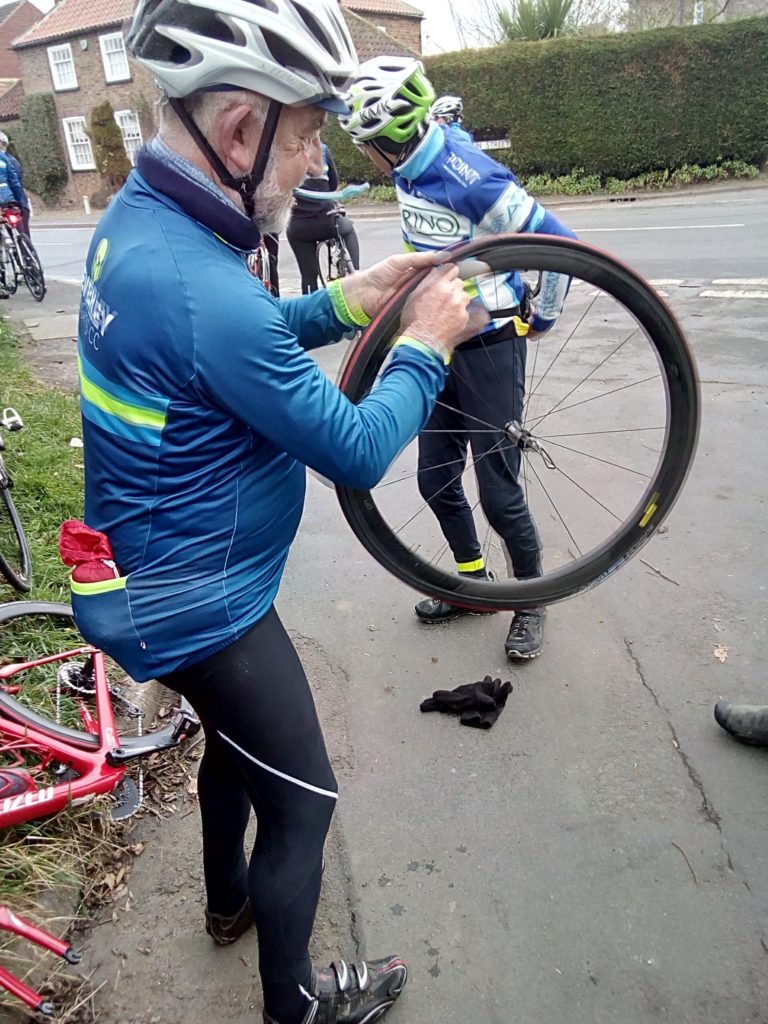 Once underway again, captain Pugwash took up navigational duties, leading the fleet to Catfoss then Dunnington, a route which turned out to be rather muddy. A slight navigational error ("another one?") took the fleet out onto the main road earlier than planned. At the junction it became apparent that some of the fleet had stopped and were no longer in sight. Captain "William Read" retraced steps to ensure all was well. Mud in the rigging had proved problematic for pirate John Russell.
The fleet regrouped at Beeford before continuing to North Frodingham. With time pressing, Evan Jones left the fleet to make his own way home. As we reached Wansford, "William & Mary Read" along with "Calico Jack" turned off to return home. The remainder of the fleet continued on to Driffield with an increasing hunger driving them ever onwards.
With full sails, the pace picked up as pirate "Black Bart" jumped onto the front maintaining a steady 20mph until approaching "Great Driffield". It was then captain Hornigold took to the front for the final run into the Bike Cave. The sight of the wonderful refreshments on display was extremely welcome.
Ann Bonny, Elizabeth Swann, Black Bart, captain Kidd & John Russell

Greybeard, Hornigold & Jonathan Barnet
Prior to departing, pirate "Jonathan Barnet" had some trouble with his wig, requiring some assistance from a young crew member to make some adjustments. Once the fleet had reassembled, we headed back to home ports through Skerne to Hutton Cranswick where Greybeard blew a raspberry salute as we passed TJs (oops Stove).
On reaching South Dalton, "Jonathan Barnet" took his leave while the rest continued to Etton. "Captain Kidd" along with "Elizabeth Swann" then decided to hit the front, leading the fleet to Cherry Burton. An enjoyable flat ride but longer than normal for a Friday.