Well, not quite everyone, some cried off at the last minute. "🎶Should auld acquaintance be forgot🎶" With strains of singing from "o'er the watter" five MEP's (Most Excellent Pedalers) gathered at Market Cross before setting out to meet up with another five MEP's at Manor House. Right from the off, Barry hit the front to lead a strong pace over the Westwood, flying up the hill like a Red Arrow on after-burners.
Our first choices for cafe stop were both closed for the winter so we resorted to the Fiddle Drill at Goodmanham. After discussing the route, the MEP's "gray-v" train set off towards Etton. Once again, keen as mustard, Barry set the initial pace. The south-westerly wind did not feature too much as we made our way north to Holme-on-the-Wolds. It was a different story however when turning to Middleton-on-the-Wolds. There was no hiding unless you managed to keep the wheel of the bike in front.
Turning onto the Warter road, it was time for the long climb up to Nunburnholme top. Coupled with the head wind, rough road surface and mud splatters from farm vehicles, it made the going quite tough. Regrouping at the first junction gave time for some to reflect on the effort required and wonder why we subject ourselves to such punishment. You love it really Ray!
A final little effort uphill saw us arrive at Nunburnholme top and we were rewarded with a lovely vista across the Wolds. After appreciating the view, it was time to appreciate the downhill run towards Londesborough. Unfortunately the joy soon turned to teeth grinding once more as we clawed our way up Intake Hill. A further effort up the Goodmanham road, we reached our cafe stop and a well earned respite.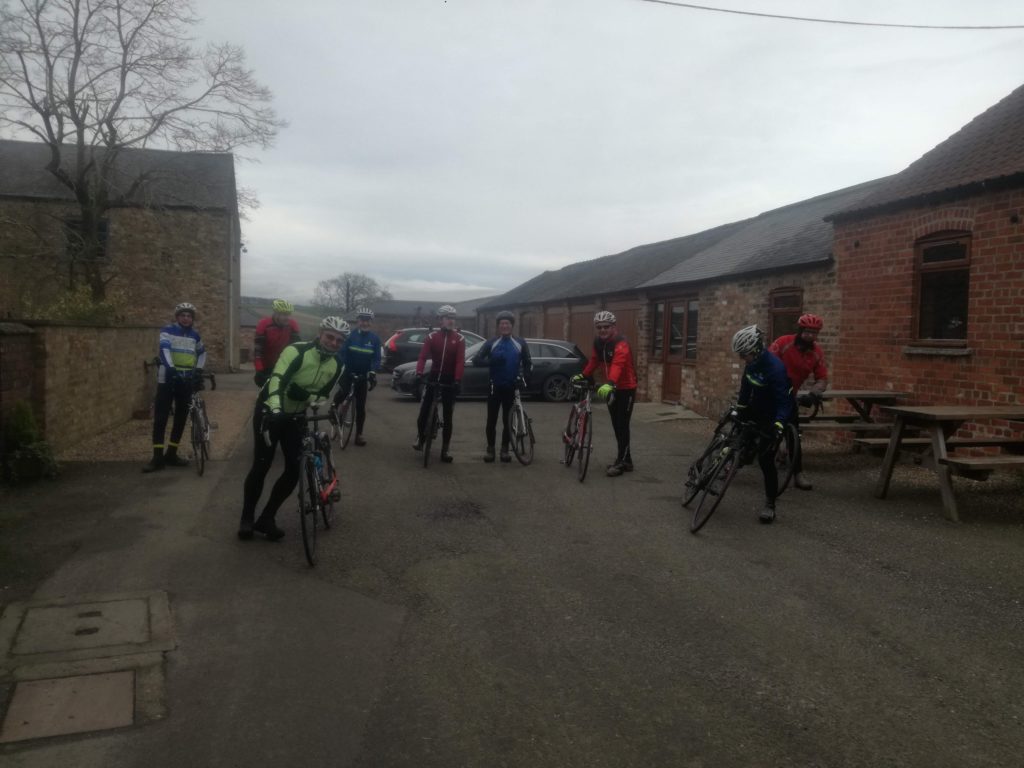 The return journey took us along the Spring Road and with the wind now firmly behind us, a quick pace was maintained until reaching Etton. At Cherry Burton, the group split as some headed home along Main Street while the rest continued to Bishop Burton.
After crossing the A1079 we stopped to regroup once more. When Raymond caught up he sounded like he was going to come up with a rather profound statement. Guffaws of laughter ensued however, when he asked for everyone's honest opinion on Gwyneth Paltrow's "intimate steaming" regime. How long had he been thinking of that!