The Four Minsters ride was originally proposed as a 100 mile flat ride calling at four of our regional Minsters……. "Eh excuse me, did you say four Minsters?" Well technically it was three Minsters and an Abbey but they all look pretty impressive and it rolls better off the tongue. "Hang on a minute, we only saw one Minster and an Abbey. Call the ombudsman, I want my money back!"
To err is human but to make a complete mess of things you need a computer or a committee of divergent ideas. It started right from the off. "Anyone got a Wahoo? Anyone managed to download the route?" cried Steve as a form of pre-ride briefing. As one brave soul confirmed to have the route "locked and loaded" everyone else said "Right we'll follow you". Meanwhile Stephen and Sharrin decided to set off early to get a head start "up the hill"?? The rest of us set off to follow whoever was at the front 🐑🐑🐑🐑🐑 through North Bar and along Molescroft Road. "I'm sure Stephen and Sharrin turned up that alley" suggested someone as we all ignored him. By the time we'd reached the Molescroft Inn, we realised something had gone wrong. "The computer says we're on the right road but heading in the wrong direction" said Chris. "Better call Stephen and Sharrin and let them know what's happened".
"Hi Stephen we've set off in the wrong direction. Where are you?" "We're heading towards Bluestones, meet you at the top?" "Bluestones?…. But we're supposed to be heading past the Minster to Walkington and High Hunsley down Trundlegate to Hotham and North Cave". "Didn't anyone review the route before setting off?" "Well, we always go that way to Howden". Thus we missed our first port of call at Beverley Minster.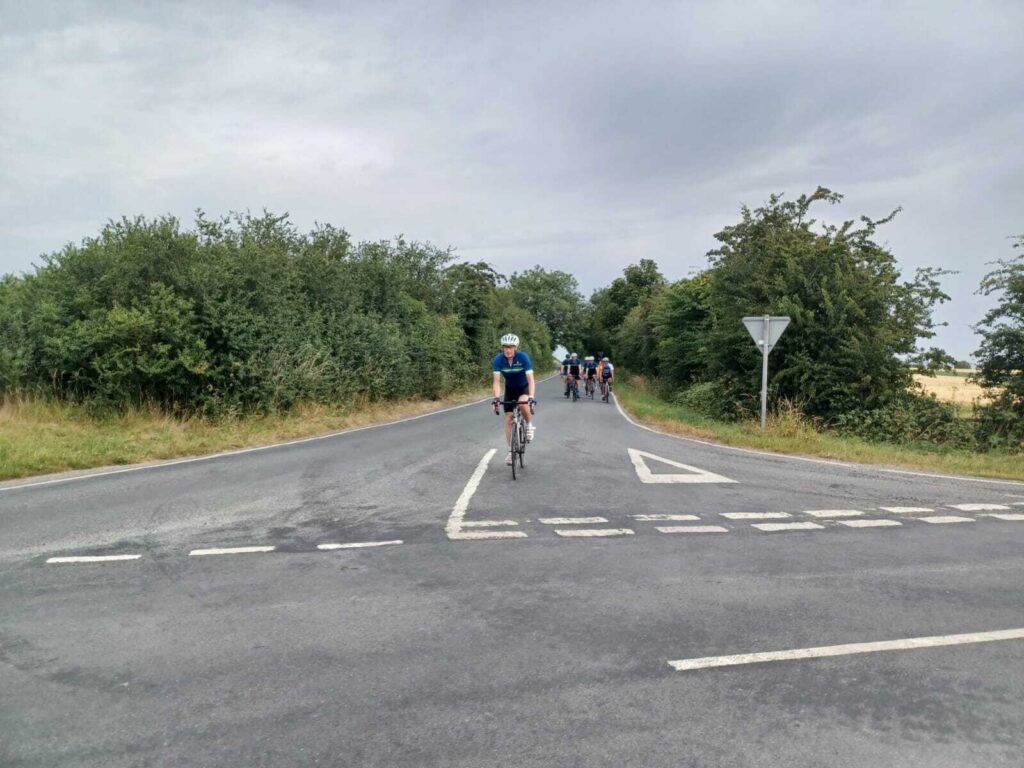 "Now we're here, we may as well carry on over the hill to South Cave then pick up the correct route again at North Cave". A blanket of cloud filled the sky keeping the temperature at around 21°c and with light winds it was perfect for cycling. Leaving North Cave back on track, we turned right at Newport towards Sandholme and Eastrington before making our way to Howden Minster.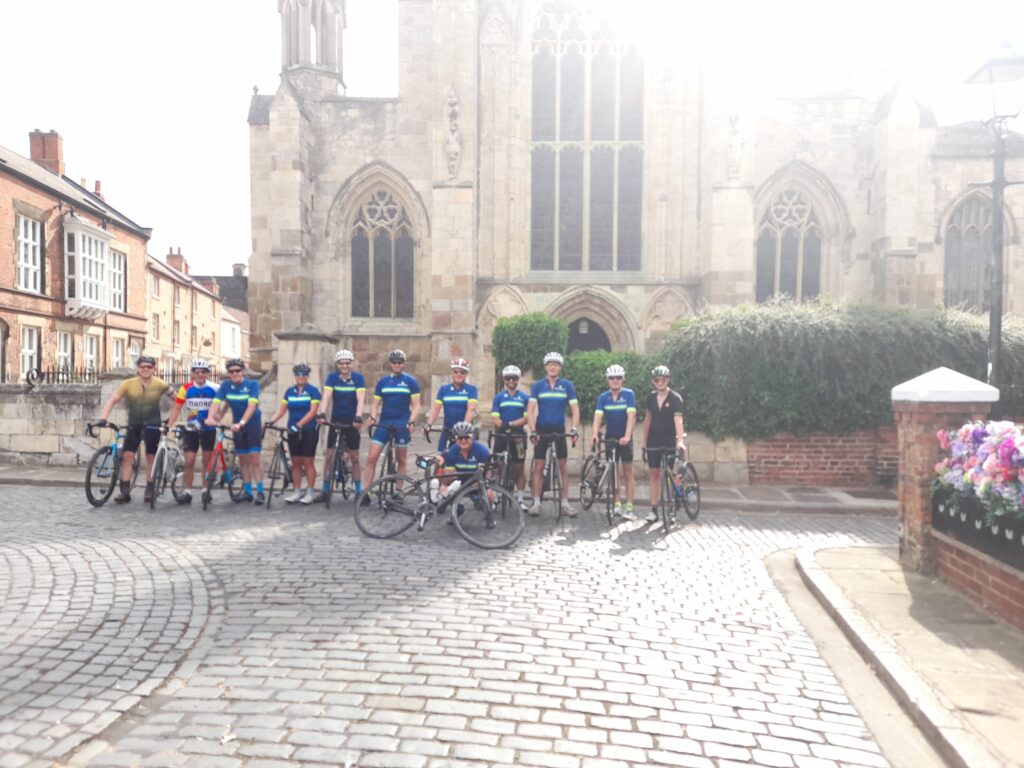 After a brief pause and a photo shoot, the question was asked, "So Steve where is the first cafe stop?" "Chomp Chomp Chomp" came the reply. Soon all eyes were on Steve waiting with baited breath for the answer. "Chomp Chomp Chomp" he continued like a Pac-man on steroids. "Come on Steve, answer the man" they said laughingly as the "Chomp Chomp Chomp" continued apace. That's the trouble with these energy bars, they can be quite chewy. Eventually he was able to swallow his bar and a little self consciousness to let us know there was a cafe near Naburn which was around 10-15 miles away.
Leaving Howden, we found ourselves in pastures new as we cycled through Knedlington and Asselby on our way to Barmby-on-the-Marsh where the river Derwent meets the river Ouse.
After crossing the Barmby Tidal Barrier we encountered our first taste of off-roading as we followed the NCR 65 to Hemingbrough. "Sorry guys, I didn't realise it was going to be so rough" as we all surveyed out "pride and joys" for signs of damage.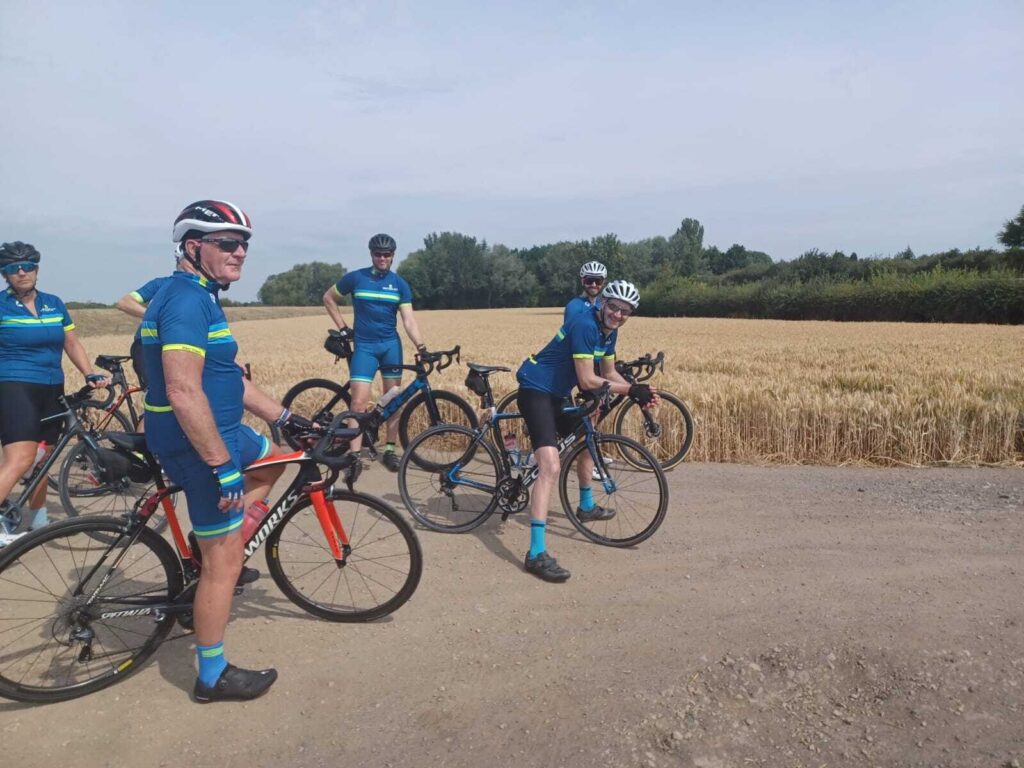 Our return to tarmac was most welcome as we traversed the cycleway alongside the A63 turning off at Cliffe junction. As we approached the river Ouse, the road narrowed and then we were off-road again as the NCR 65 took us along the river bank into Selby. Bump, bump bumpity bump.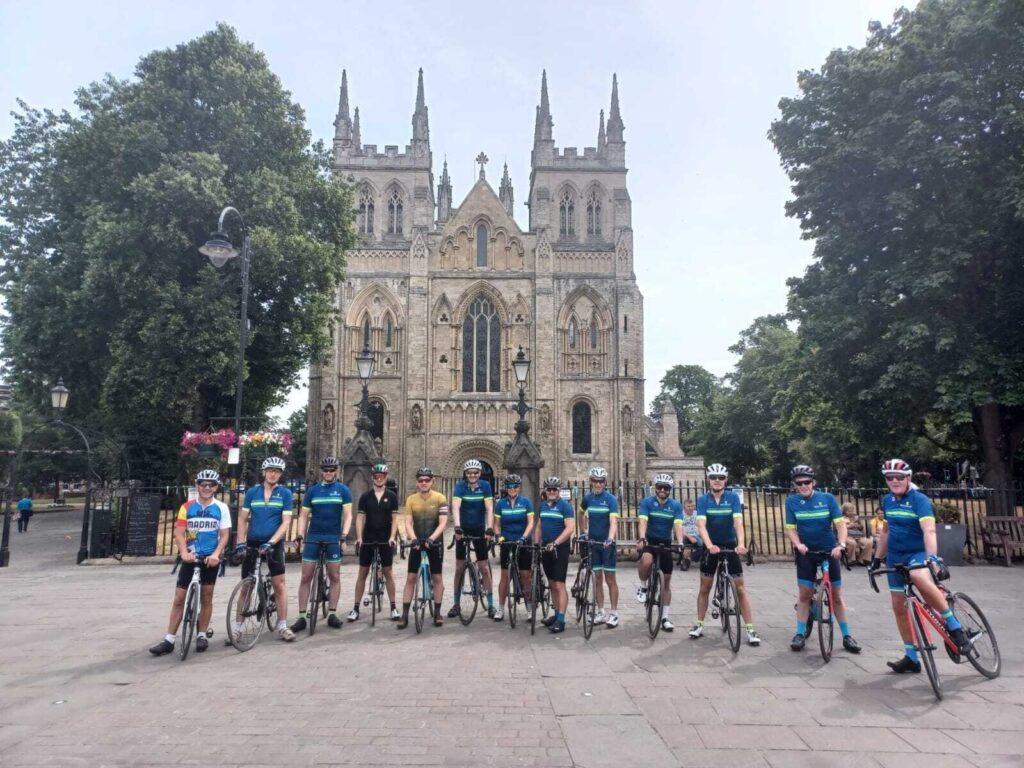 After our photo stop, it was back the way we came in, once again following NCR 65. Zooming along Bank Street there was the proverbial sound of screeching brakes (or in someone's case for real) as "the computer says no". "We need to head up that path along the river bank" said Chris to the sound of groans wafting on the ether. "Not more off-roading". This segment required careful bike handling as we bumped, dodged and gazed longingly at the tarmac'd road below before eventually bringing us back onto said road and into Barlby. From there we picked up the cycle path alongside the A19 bringing us to Riccall.
It was at this point we picked up the "Solar System" cycle path which forms part of the NCR 65 and the Trans Pennine Way. The surface has been recently tarmac'd and made for a very pleasurable segment as we swooped through the traffic free, tree lined pathway. Unfortunately we seemed to be in too much of a rush to get to our cafe stop to admire the Planet sculptures along the way, passing Pluto, Neptune and Uranus before turning off the path at Naburn.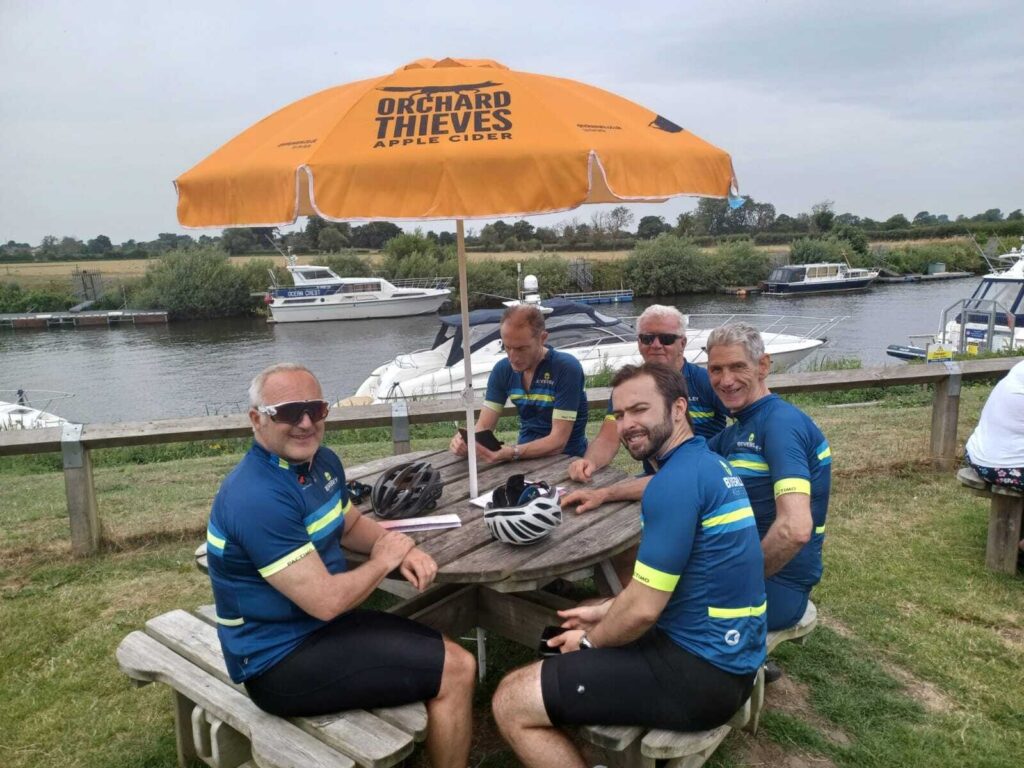 After a pleasant interlude 🎶messin' about by the river🎶 it was time to head off to York for the next leg of the tour. Playing 'follow the leader' 🐑🐑 once more we found ourselves up a back alley in Naburn. "Sorry folks wrong way". I did think we should be going back onto the cycle path the way we came down. However we did eventually return to the path having missed out Saturn. Rocketing our way past the remaining planets from Jupiter to Mercury we arrived at the Sun☀️. Unlike Icarus we managed to keep our wings so continued onwards through a series of on-road off-road segments including through part of York race course before crossing York's Version of the Millennium Bridge.
Thereafter we followed what passes for cycle paths in this country, disjointed, poorly laid out alongside busy main roads as we negotiated Grimston Bar to reach Dunnington. Then it was just a short hop into Stamford Bridge. We were so busy concentrating in getting to the cafe no one noticed that the route did not pass York Minster.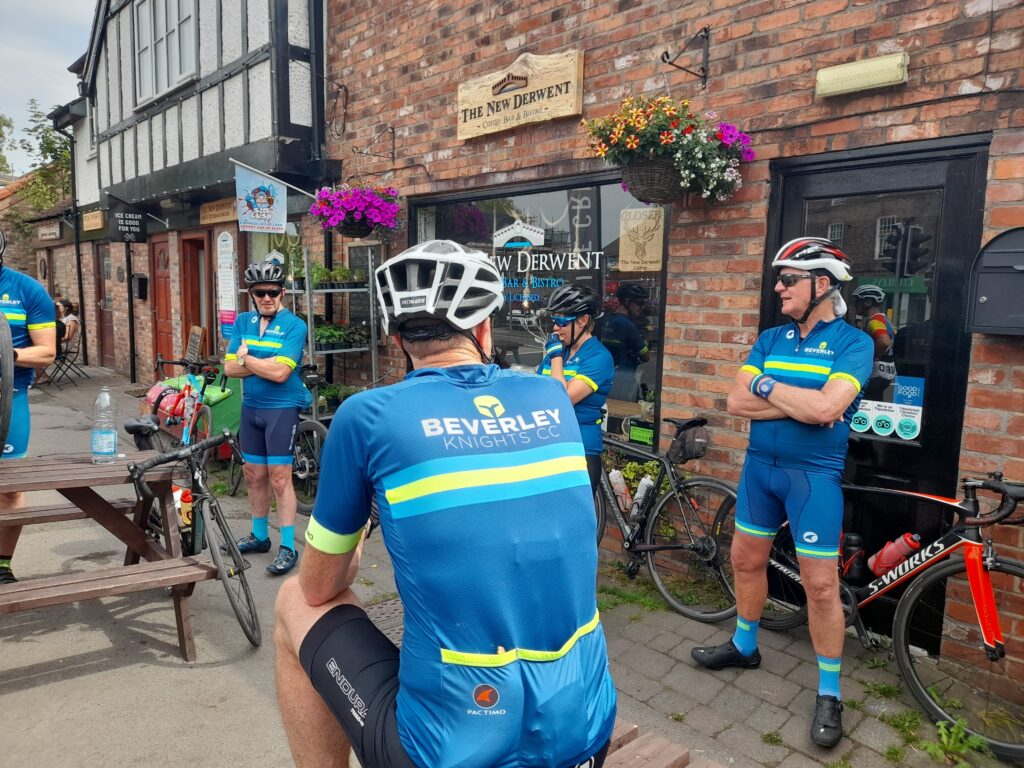 Given the amount of off-road segments we'd crossed, it was not surprising that someone should suffer a puncture. As he set to effecting a repair, he piped up "Hey Chris, you're really good at this. You were really quick changing a tyre last time" he said praisingly, obviously hoping to hand the job over. As Chris got stuck in, the repair was soon mended. Just pump it up and away we go. Pssst, oh… not so fast. Let's try again. Having used one inner tube it was time to make a repair instead as no-one had spare deep rim tubes. By now the clock was ticking. Chris tried to pass off this mishap with a typical engineering stock answer "A quality job takes time". Not if you get it right the first time. 😂 Perhaps "Third time lucky" should be added to the list of engineering terms along with "if at first you don't succeed… ".
By now the temperature was beginning to rise so the sooner we get back the better. The group all set off back up the hill except for Pugwash who'd got stuck at the cafe amid a constant stream of traffic. By the time it was safe to get on the road, the others were nowhere to be seen. After a short period the group realised there was someone missing. Eventually Chris, Stephen and James came back looking to see what had happened. As we started to make our way back to the group, Pugwash had a recurrence of leg cramps. While stopped to try and shake out the lactic, Stephen asked "Do you want m-mum-t-cum" Not quite hearing what he'd said, I thought he had some magic pill in his back pocket to cure the dreaded cramp. It suddenly dawned on me when he added "You could wait back at the cafe". Anyway a huge thank you to Mrs P for providing the "broom wagon" and hope you enjoy the Pimms🍹.
While I sat nursing an ice-cream back at the cafe, the rest of the group continued, returning through Pocklington, Burnby, Londesborough and Market Weighton. Total ride distance of around 90 miles fell somewhat short of the 100 mile mark that was expected, though with the heat beginning to increase steadily it was probably just as well. I think everyone enjoyed the ride with some reservations over the off road segments. Should we choose to do this ride again, perhaps we could find quieter alternatives to some of the rougher segments and include York Minster on the route.