Friday 17th September 2021
For those that could make it, the planned route covered a distance of around 35 miles with a coffee stop at the Rusty Bike Cafe in Swainby to return in time for our food delivery at 4pm.
Nine Knights set off at 11:30 initially through Great Broughton towards Kirkby and Great Busby. The terrain consisted of gently rolling countryside with little traffic. With the sun shining and light southerly breeze it made for a very pleasant introduction to our weekend of cycling. The first 'taster' of things to come, soon arrived as we reached Sexhow Bank where we were faced with the short sharp incline leading us into Hutton Rudby.
Continuing West, the terrain was generally downhill until reaching Crathorne. From there we turned south towards West Runton with generally upwardly rolling hills before returning towards the East and our cafe stop.
Leaving Swainby, we retraced part of our route before heading towards Rudby where we encountered another short sharp incline. At least this time there was a slight downhill leading into it to provide some momentum. Continuing north to Seamer we then passed through Stokesley where the Stokesley Fair been set up. "Well we know where to come tonight" cried out one excited voice. Soon after, we found ourselves back in Great Broughton. "It's still too early to go back to the house, what are we going to do now?" enquired someone "PUB!" cried another.
While enjoying our refreshment in the sunshine, we checked to see where Alison was and sent her a message to let her know that we'd stopped.
Spurred on by the thought of a nice cold drink, Alison continued her route to meet up with us again. Just as she arrived the waitress came out to the table, not to take her order unfortunately but to advise us that the pub was closing for the afternoon. At least we had managed to enjoy a 'round' 🍻 before that.
As Alison left disappointed to return to the house, the rest of us took on the first real challenge of the weekend with the climb up Clay Bank. Not overly steep (av 8%) but steadily upwards for around two miles. Starting off gently it soon ramps up touching up to 10% in places. The view from the car park at the top is worth the effort as we recovered looking out towards Captain Cook's monument.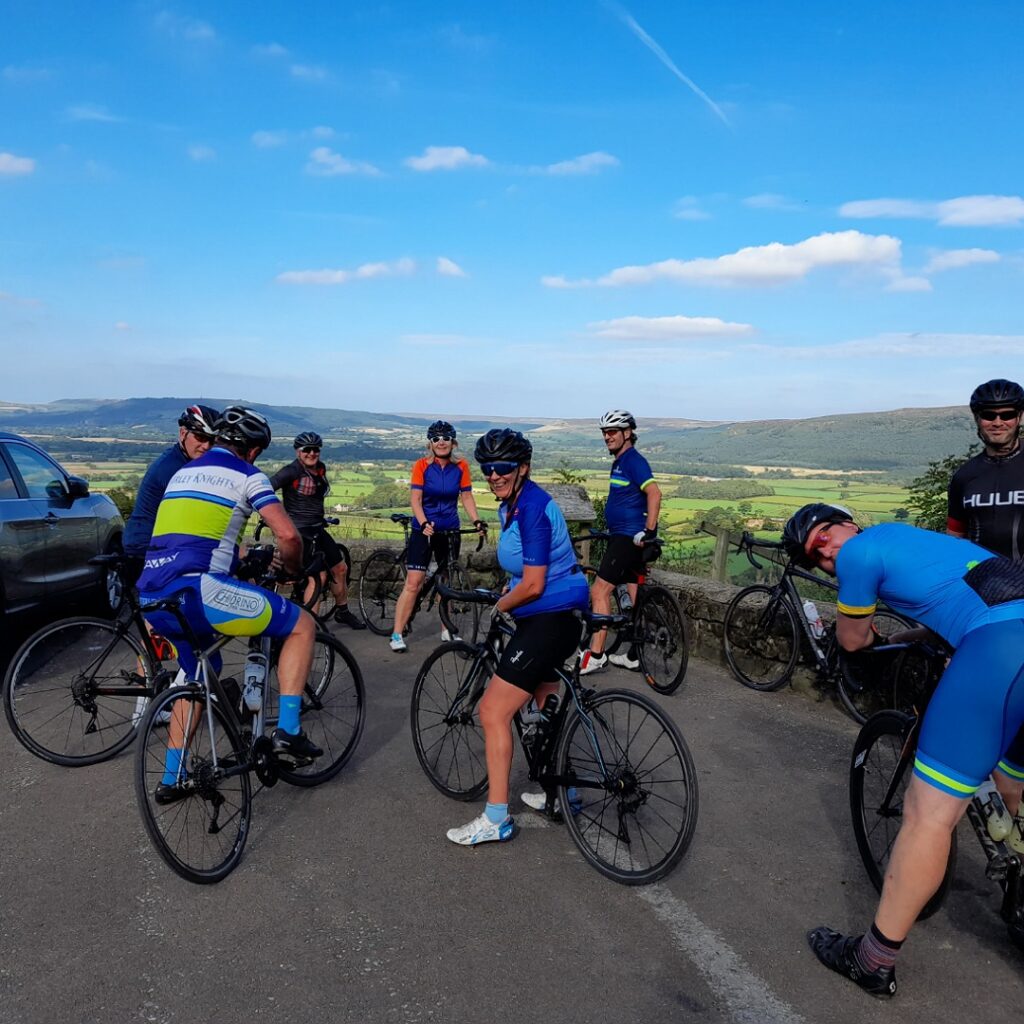 Another "reward" for that effort came immediately after with the long sweeping descent towards Ingleby Greenhow and back to the house.
A little later in the evening we were joined by Andy, Colin and Sarah. Friday night was designated "Steak" night and oh boy what lovely steaks🥩😋. After our meal, the banter turned to what games we should play. Following a round of the "5 sec Rule" (I thought that applied to food falling on the floor!) James proposed a hilarious game of "Bingo Bongo". It turned out to be bingo but no numbers were called out, only the rhyming slang. You then had to "guess" which number was being called, which would have been fine if we'd been regular bingo players, but we all struggled to know our 'Baker's Bun' from our 'Bang on the Drum'. The first 'line' was called by Mark, turned out he didn't have any numbers correct! The line was eventually won by Andy with Sharrin taking the 'Full House'
Eventually we all trickled off to bed, extremely content and happy after all the fun and ribaldry, to dream of what was in store for Saturday.