After a long voyage through Arctic waters and battling adverse winds, the sun put in a glorious appearance to warm the soul and brighten the countenance of our crew. Bib shorts and short sleeves were order of the day with seven members reporting for duty at Market Cross including newbie Chris complete in what looked like a harlequin outfit.
The fleet set sail over the Westwood with Captain Pugwash taking the helm. "Dolloping Dolphins" he cried as our safe passage was hindered by a herd of cows crossing under the bow. One of the cows decided to have a close look at a car parked on the roadside. It must have taken a fancy to it as it began to lick it. I can only imagine what the owner thought on returning to find cow slobber all over the windscreen.
We were soon joined by a further six crew members clambering on board at Manor House then with Corporal Jones joining at Cherry Burton, it brought the crew complement to fourteen. In perfect riding conditions the ship proceeded through Etton and into a light head wind towards Kiplingcotes.
Regrouping at Red Lane

All together again
Following a brief heave-to at the top of Red Lane, it was time to test the lovely new road surface leading us into Market Weighton. Next up was the roller-coaster ride to Londesborough and Burnby before reaching Nunburnholme. Along the way the flotilla became strung out until regrouping at Kilnwick Percy except for Corporal Jones who seized the opportunity to set off alone to book his place at the "Captain's table".
As the fleet approached the drop down to Millington, Stevie G shouted a timely warning about possible enemy ships lurking around a blind bend. Right on cue, a great hulk in full sail suddenly appeared as we rounded the corner. With such prescience, perhaps Steve should get some lottery numbers.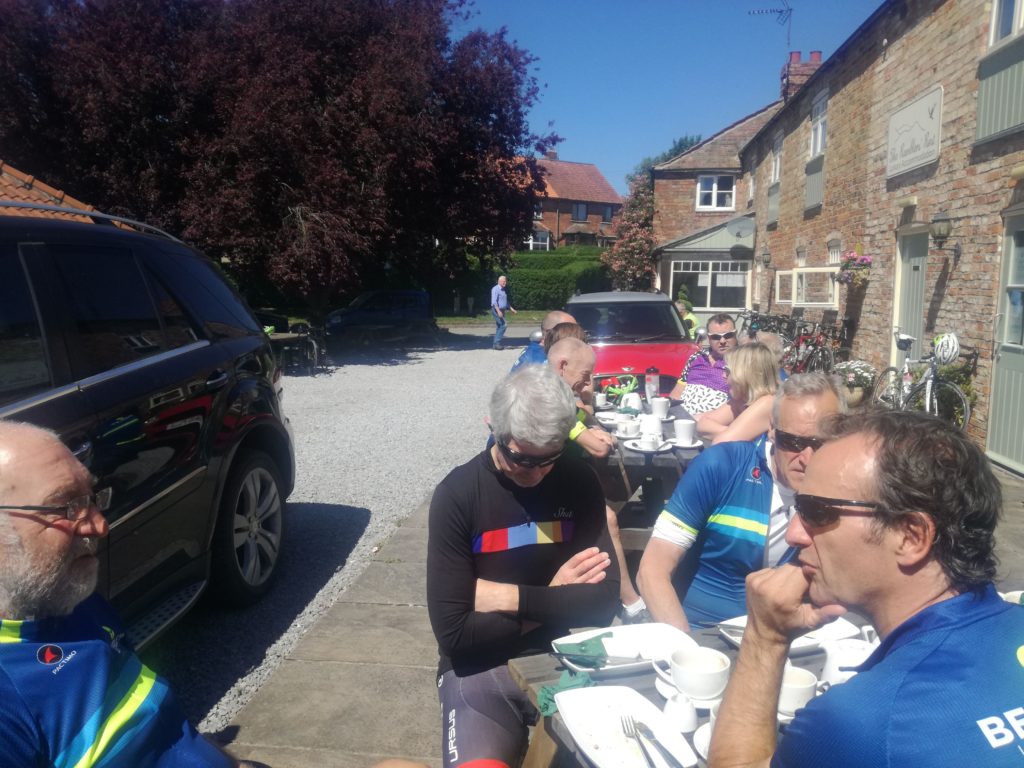 After refuelling at the Ramblers Rest, the fleet set off along Millington Dale towards Huggate. Another new road surface has been laid at Huggate, however with so many loose stones on the surface it did not make for the most comfortable passage.
The planned route saw the fleet heading generally downhill towards Tibthorpe. Mark set off as "point man" in a one man breakaway. Corporal Jones then set off in pursuit with Captain Pugwash hanging on to his wheel. Just as we thought we were making good progress, the rest of the fleet added some more oomph and overtook to close the gap. There was then a two man breakaway as Mark and Chris managed to open a gap once more, hotly pursued by Captain Pugwash and Stevie G. Despite our best efforts, we were unable to close the gap before regrouping at Tibthorpe.
A gentler pace ensued thereafter as the fleet proceeded homewards via Kirkburn and Bracken. Approaching the junction to Southburn, there was a near pile up when "lead man" Chuggy slowed down as an enemy vessel approached in the opposite direction causing chaos behind. Quick wits and good bike handling prevented any mishaps.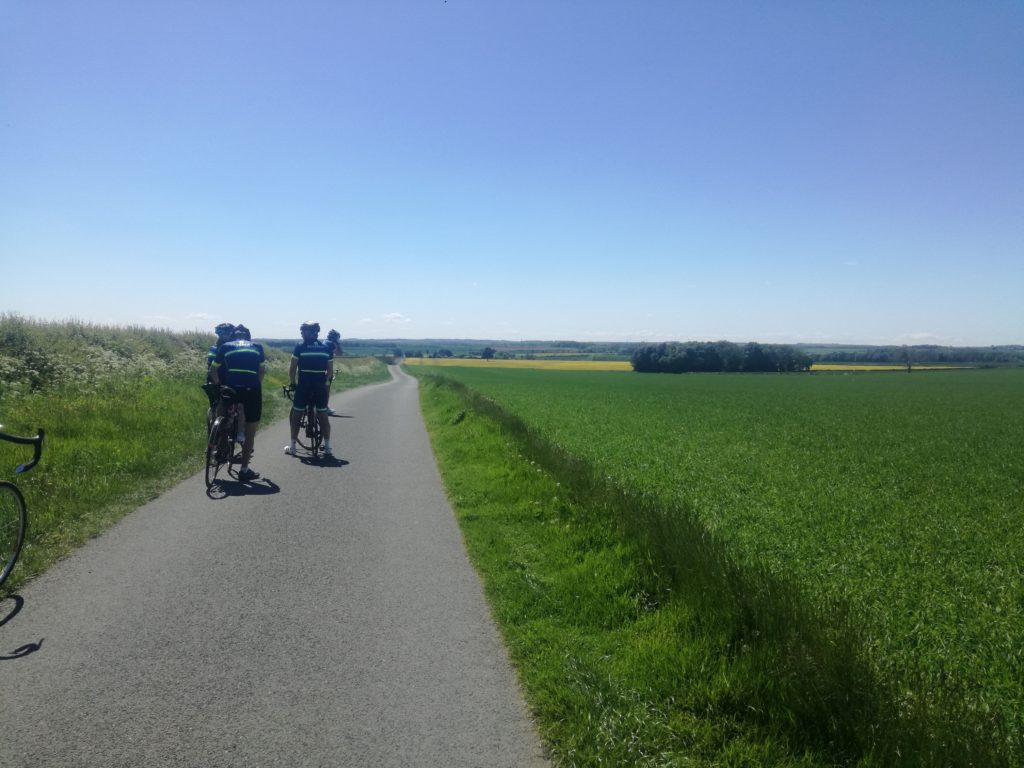 The fleet later split in two at the South Dalton junction with some opting for the main road to Molescroft while the remainder chose our usual route returning through Etton and Cherry Burton.