Matty was first to "pitch" the route for today's ride to Ulrome. "Meet at Market Cross 0930" he said but when the start time was called into question he responded with "Just checking to see if you are all awake. OK make it 0900 kickoff"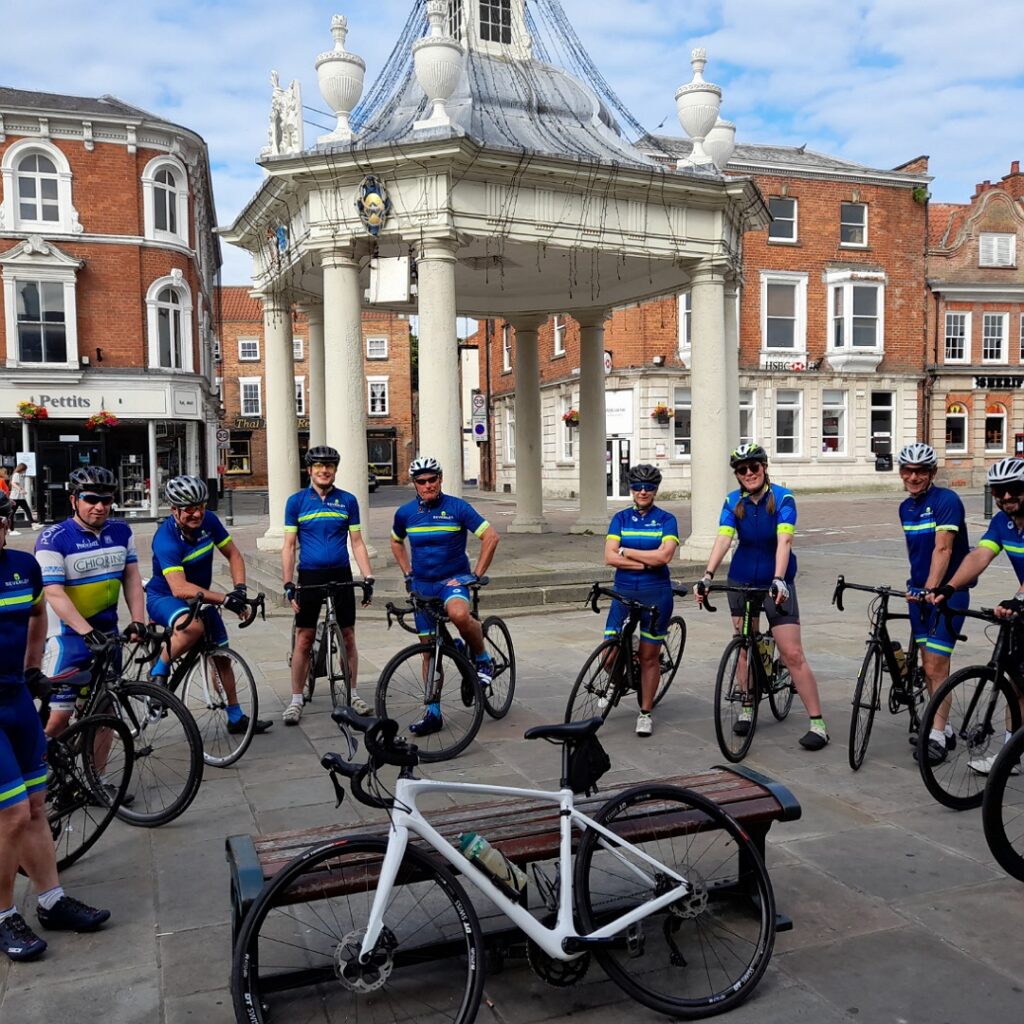 The "game" started with only ten "players" but all systems were go as the lights changed in favour of the "Blues" making for a smooth passage of play as we winged our way through to Weel Bridge and Tickton. The team was brought up to full strength when Chad joined in at Routh.
The first "attacks" started as we pushed forward with Olivier, James G, AndyS, Mike and Stephen. With a huge acceleration they were joined up front by Matthew P while the "defense" maintained formation behind. It was not long before the "opposition" resorted to "dirty tricks" as we tried to find a way through "Muddy Waters". Pugwash would have been 🎶Standing Around Crying🎶 after surveying the mess made to his newly cleaned and polished bike but the game has to go on, the marks of the dirty tricks showing on the backs of all the players.
Following a "free kick" at Long Riston, the "Blues" continued to mix things up as we kept moving forward to Mappleton. Approaching the coast line, the "opposition" tried to pull the wool over our eyes as the mist looked ready to roll in. Undaunted, the "Blues" kept the momentum and despite losing Mike to an "early bath" increased the tempo on the way to Hornsea aided by a slight following wind. In a deviation from the "plan", some players decided to mix things up and reenact the solstice ride by passing the Trans Pennine gateway.
After the restart, Matty led the way through the "opposition defence", dancing and spinning his way through the back streets of Hornsea then leading us to the Bewholme road. At this point Matthew P showed his mettle by spearheading the strike force assisted by AndyS eventually "passing the ball" to Pugwash who then took the team up to Skipsea Brough. The "half time whistle" came shortly after when we reached Ulrome and made our way to the "dressing room" in the Granary.
On resumption of play, the pace of the front runners remained high as we tried to find a way through Lisset and Gransmoor to reach Great Kelk. Darting through Foston-on-the-Wolds seeking a way to reach the "goal" the team continued to press ahead. By the time we'd arrived at Hutton Cranswick the high pace of the game was beginning to take its toll so it was decided that the "defenders" would form a Gruppetto while the "strikers" would continue at pace.
Luckily the dark clouds conjured up by the opposition came to nought and with little wind against us led to another enjoyable "match". They think it's all over, it is now.