Here at the Cross, the market cross, well in time, steadily, sensibly, not too quickly, not too slowly, falling in line were the firemen of Trumpton along with a number of citizens. Captain Flack called the "brigade" to order. "Right men, action stations" he said "There will be two "tenders", in the first we have Pugh, Pugh, Barney McGrew, Cuthbert, Dibble and Grub along with the "Mayor" and in the second we'll have Miss Lovelace, Mrs Cobbit, Mr Bolt, Mr Clamp, Mr Troop and myself "
Barney McGrew set the first tender in motion as the rest fell in line behind. Approaching a set of road works, Cuthbert and Pugh caused the Mayor some consternation by mounting the pavement and circumventing the traffic control, while the rest of the crew waited patiently for the green light.
With a generally following wind, the tender moved swiftly along the Weel road to Tickton. After Tuesday's hilly ride, Captain Flack decided we needed a flat route taking us out east to Leven and Brandesburton before heading north at Bewholme.
The smiley faces soon turned to grimaces as we turned into the wind at Skipsea with firemen Dibble and Grub stepping up for "point duty" to lead us into Beeford. In a change to the usual run through North Frodingham, we turned off towards Foston-on-the-Wolds before reaching Wansford. Although the bridge over the Driffield canal is closed to traffic, it is passable for pedestrians allowing us to proceed directly to Skerne.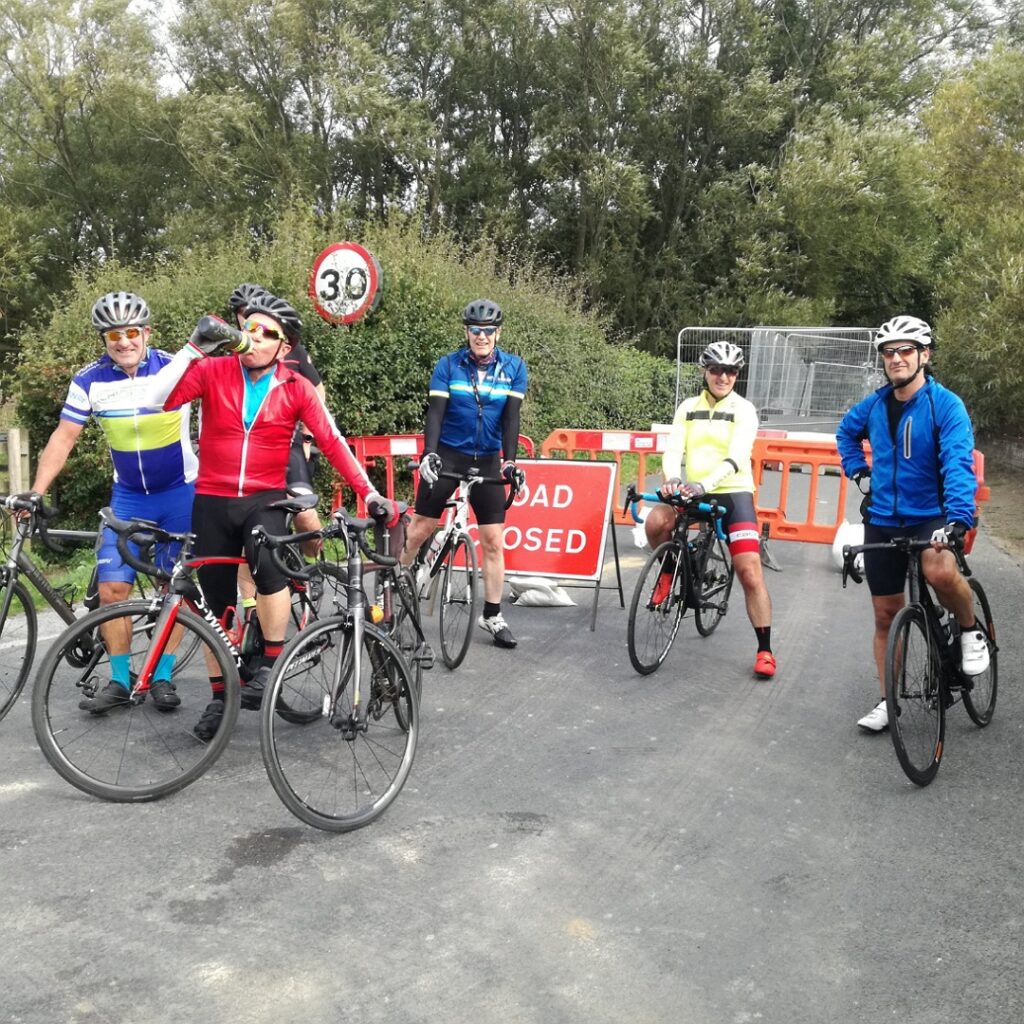 The closed road made for a wonderful run through to Hutton Cranswick as Cuthbert regaled us with tales of a grisly murder that took place there the previous evening. Soon enough we reached the Farm Shop and a chance to take on board some sustenance.
Mr Bolt skipped the cafe stop and "bolted" home. The rest of the second "tender" arrived at the cafe just as the first were placing orders. "Get back in your boxes" barked Mrs Minton from behind her clear perspex screen as the firemen crowded round to see what was on offer. With the food delivered we spent a pleasant time at the outside tables until the cold started to seep through, indicating it was time to get going once more.
For the return journey the "Mayor" changed to the "gruppetto tender". Leaving the cafe, we were immediately faced with the full force of the increasing wind strength and few hedgerows to provide shelter. It was a case of everyone taking turns at the front while the rest tucked in behind.
The two tenders followed familiar routes through to South Dalton, Etton and Cherry Burton with the wind remaining a constant feature until we could hear the strains of the "closing credits" (or perhaps it was huffing and puffing of the firemen) as we arrived home. Another great ride, with super company.