🎶Raindrops are falling on my head🎤🎶 sang Raymond this morning "Are we still going out?" 🎶Good Day Sunshine🎤🎶 was Michael's quick response, although I suspect he was looking through a travel brochure when he suggested it was sunny and 19°c.
The "soothsayers" were predicting "🎶A Hard Rain's Gonna Fall🎶" but were we discouraged? Not a bit of it. Seven Knights turned out to "🎶Set Fire to the Rain🎶". Like a bunch of inveterate gamblers, we gathered at Manor House to take our chances🎰. Our destination today was the Bike Cave in Driffield.
Setting off along Finchcroft Lane, strains of "🎶Sunshine on My Shoulders🎶" could be imagined as the sun tried hard to find a way through the clouded sky. At least it put us all in a hopeful mood. There was an immediate delay as we tried to cross the A1079 with an almost continuous stream of cars in both directions, except for Matt, who "rolled the dice🎲" and made it across without stopping.
By the time we caught up with him again, he must have started to wonder if we'd taken a different route. Another short delay occurred at Cherry Burton while Michael attended to some niggling issues with his newly fitted mudguards. Our luck seemed to be holding out as we headed to Etton and Holme-on-the-Wolds. Despite the wet roads beneath us, the continuing dryness from above made for a pleasant ride.
Approaching the top at Bracken however, some rather dark looking clouds were looming over our destination. This prompted a change of cafe stop to the Farm Shop at Hutton Cranswick. A decision which soon proved to be the right one as a sprinkling of wet stuff started to dampen our parade 🎶💦Its Raining Again💦🎶. Cue for a mad dash to the cafe.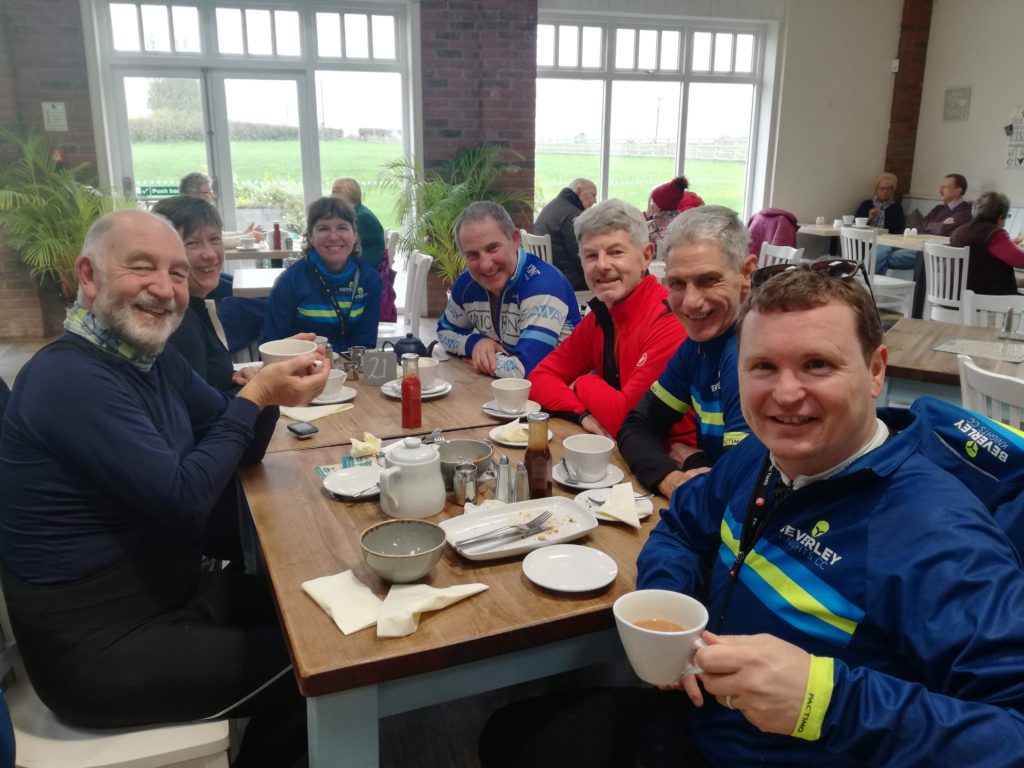 Looking out the window after all the coffees and teas were consumed, there was a sigh of 🎶Who'll Stop the Rain🎶. "Well" , said Raymond, "what's it to be? 🎶It's Raining Men🎶 (and ladies)" "Another cup of coffee?" suggested Pugwash, however no one seemed keen to linger any longer. "Oh well, nothing for it 🎶Can You Stand the Rain🎶"
With nobody keen to follow Raymond's suggestion of "Flanders Field" we retraced our route back the way we came. The rain continued all the way home. Thoughts of a warm bath or shower were not far everyone's mind as the dampness tried it's best to seep through the layers of clothing. Even though the ride was a little damp it was still quite enjoyable.
Now then, where did I put that gin and tonic? 🥛🍋Chin Chin!