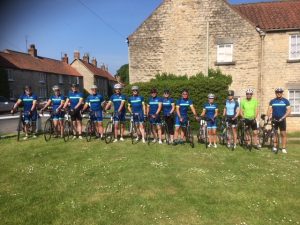 11 Knights – Stephens, Sharrin, Colin, Mike, Mark, Jonathan, Dave, Jenny, Neil, Heather and Brian – met at Hovingham for the rescheduled away day to the Howardian Hills. We were met by Stephen and Abi who were accompanying us on our ride. They had been involved with Stephen planning the route and promised us a lovely ride. The sun was certainly shining when we set off and we were soon warmed up as within 1km we were immediately climbing. That set the scene for the day – lots of ups and downs – no such thing as a flat road in the Howardian Hills. Once into Gilling and past the miniature railway it was a right turn to head up and through the splendid Ampleforth College. The groundsmen were cutting the grass and with the blue skies it all looked very serene. Onwards via Ampleforth village, Wass, Olstead and Kilburn. Each village was showing off their charm and the ruined Byland Abbey added to the sights.
There was a stop in Newburgh for a break to feed the ducks and admire our surroundings of the Newburgh Priory Estate. A climb up to Oulston and then a run along to Easingwold meant we had reached our lunchstop at the Sugar Mouse Cafe. In fact Easingwold seemed to be a popular place for cyclists with a number of groups enjoying the sunshine and a coffee. Refreshments were ordered and seats found outside, the first few bacon sandwiches taken by Jonathan,Mike and Stephen. Service continued and soon nearly everyone had their food. It was at that point , just as Mike was finishing his last mouthful , the waitress arrived and said " A well done bacon sandwich for Mike " Whoops – its not just Neil that does it then!!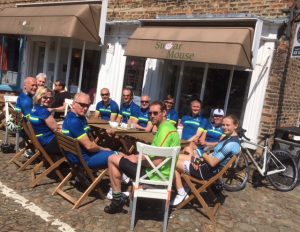 After lunch we headed back and what had been a lovely tail wind changed to a head wind so turns were taken on the front to lead the group along the road.
A technical issue with Abi's bike near Whenby meant she was limited to a few gears. As we watched her trackstand whilst we waited to head off again and then race up the 1:6 Bulmer Bank with no issues , we all then realised that no matter how many gears we had or how good our bikes were, 16 years old had passed us by as had boundless talent! At least we only had to keep up with her on this ride- her Dad has to do it all the time!
After Bulmer Bank it was a ride up to Castle Howard (road never seemed as steep in the car!) At the top there was a regroup and a realisation that water supplies were limited or zero . And so, despite only having 10km to go, we had a stop at Tettrington Stores for supplies. This proved a good decision as the last 2/3rds of the route was uphill.
Once through the trees we were greeted with a lovely view across the North York Moors and it was downhill to finish at Hovingham.
75km, 1100m climbing, spectacular views, beautiful scenery, amazing weather and great company -thats what away days are all about.