My mum would have called it a "dreich" start to the day but that did not deter nine knights turning out at Market Cross. Many needing to get some miles in their legs before our first away day and C2C. With our route master Raymond returned from far flung corners of the Cornish empire, our route with café stop at TJ's was quickly decided .
We set off towards North Bar and the Westwood at a leisurely pace, before the first climb to Newbald road. Always one to spread the group out before regrouping at Manor House.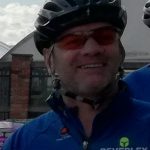 David W and Dave W (two of the three David W's, this could get confusing) then taking up the early pace setting through Cherry Burton and on to Etton. On the ramp out of Etton it was the turn of David W (Pugwash) to jump onto the front closely followed by the other two namesakes and supported by Shaun and Chris to lead the way into South Dalton.
Taking the Mere lane, we headed over to the Bracken road. The dampness of the road then became more apparent when several riders suffered "splash-back" from those without mud guards (Shaun & Lesley). Get thee behind me Satan!!!! At the next incline after Bracken farm, the stronger riders took to the front again, heading along Southburn lane and onto Thornton lane taking us to Hutton Cranswick. Alan then took up the lead, making a lone break-away with a dash to the café. Someone has to be first in the queue!!
A selection of scones, flapjacks and tea cakes were served up to be washed down with teas & coffees. David W let it be known he is involved with tree felling. Perhaps we should call him "Chopper". Once refreshed, it was back through Hutton Cranswick over the railway crossing to Stockbridge lane. The state of this road meant vigilance was order of the day, to avoid the numerous potholes, mud and flying muck thrown up by Lesley & Shaun. Some short-lived relief came when we eventually reached the main road and crossed over into Watton, before winding our way through Kilnwick and Lockington to make our way back to the Bracken road.
It was then that "Chopper" departed the group when the rest of us proceeded back towards South Dalton. A gentle pace was then kept until Chris decided to give it some welly up the Dalton ramp closely followed by Pugwash. This then inspired others to join in on the final two ramp-ups at Etton and Bishop Burton. Suffice to say, the kudos go to Dave W on this occasion.
Despite the dull weather a great ride was enjoyed by all.