It's been a long time coming but lovely spring weather greeted the knights assembly at Market Cross. Some were daring enough to bare their peely wally legs to the elements. Still a bit too chilly for the rest of us. Eleven knights made the start including a rare sighting the lesser spotted Andy and last minute (I'm never late) Colin. Alan volunteered as route master for the day with a run out to Warter and café stop at Fiddle Drill.
We set off over the Westwood then towards Cherry Burton and Etton. With a fair wind abaft the beam it was plain sailing with a cracking pace set early on. At Holme on the Wolds, we had our first regrouping and a chance to recover after the climb up from South Dalton.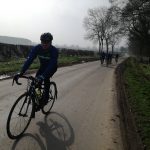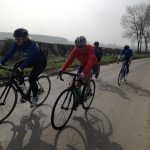 With sails reefed, a slightly less frenetic pace followed along the back straight. The slight hill on the Goodmanham road once again split the convoy with the cruisers taking to the front. After regrouping at Middleton on the Wolds it was off for the long drag up to North Dalton and onward to Huggate. It was on this section that Sharrin suffered a "mechanical" with her chain, making it necessary to complete the ride in the small front gear. Lucky it was the small ring, it would have been rather difficult and leg sapping grinding up those hills in the big ring.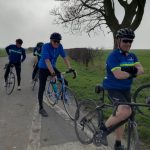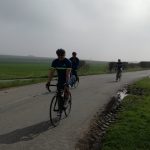 The next rendezvous occurred at Huggate with another chance to recover before setting off towards Warter road. After a few more slight inclines it was time for the big sweep down into Warter. There has to be some benefit for all the climbing. The exhilaration was short lived, as after crossing the main road it was onto Bailey lane and the climb up towards Kiplingcotes Race course and on to Nunburnholme top. Another well earned drop to Londesborough gave a chance for a breather before the next climb of Intake hill.
Once regrouped after the roundabout it was sprint time along the Londesborough road to the Goodmanham road followed by the final hill past the pub to the Fiddle Drill and a welcome break. It was even warm enough to sit outside. Not sure those wearing shorts had the same thoughts with goose bumps appearing on bare legs. Ahem, not that I was looking of course!
With everyone beginning to cool down, it was time for the return home. It was immediately back to the climbing again until reaching the Kiplingcotes Race course road followed by another lovely downhill. Colin (Batman's shadow) left the group to head for Sancton to get a few extra miles in, while the rest continued to Etton and the return to Beverley via Cherry Burton. With over 2000 feet of climbing in 45 miles it has been a tough but very enjoyable ride.