Grey skies and cold air did not prevent a good turn out for Friday's ride. Eleven Knights turned out at Market Cross, including one newbie. Oh no not another David! Nickname will be required if he signs up. At least he will help to lower the average age of the club! In the absence of our esteemed Friday route master, the destination of Millington was proposed by Rear-admiral Heather.
Our starting time 0945 was slightly later than normal. I'm sure our route master is trying his best to keep us on ours toes with all the recent changes to meeting points and times. No one fancied the climb over the Westwood and instead opted to head out to Cherry Burton along the slightly easier Molescroft road. We had not been going very long when a lorry pulled up to the side of the road in front of us. Whether by design or just blind ignorance, the driver opened his door and jumped out just as our group were passing, forcing the leading riders to take emergency avoiding action and in the process very nearly causing those behind into a pile up. A few choice words were exchanged before continuing on our way.
After clearing Molescroft we headed onto the cycle path to Cherry Burton, except for Jim who followed his own script and stayed on the road. At Cherry, we were joined by Dave and Jenny bringing our numbers up to 13. Hope no one was superstitious. The group were soon strung out with Mike setting the early pace as we headed to Etton and onwards through South Dalton and Home-on-the-Wolds.
After regrouping we were off again. Unfortunately Leslie had to leave for an early bath and returned via Kiplingcotes while the rest of us continued to Middleton-on-the-Wolds. Next up was the relentless climb through North Dalton and up to Huggate. It was here that lack of match fitness began to take its toll on those who have not been out regularly or those who are gravitationally challenged.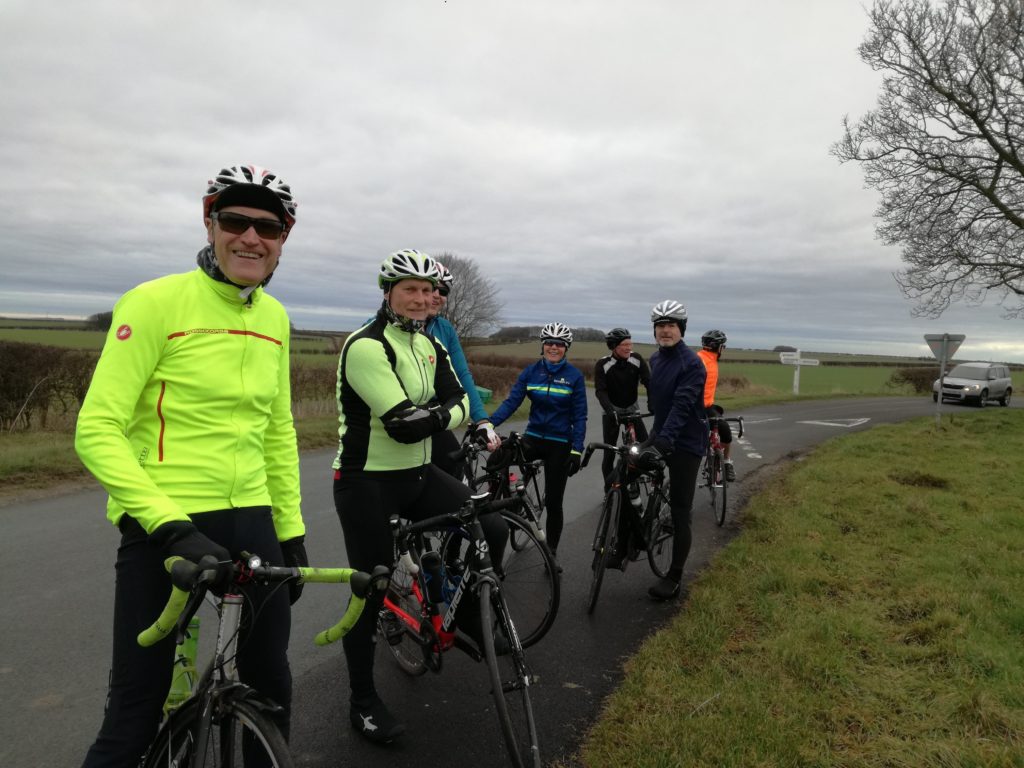 On reaching Huggate, Alan decided to return home via Tibthorpe. Must have balked at the prospect of tackling Nunburnholme Hill with his single gear bike set up. Once we were all together again, it was breeze along Millington Dale. As we were cruising along, we came upon a pheasant shoot with a number of the "tweed set" giving both barrels to the the poor unfortunate creatures. "Time for the tin hats Mr Mannering" as the birds came tumbling to ground all around us.
The Ramblers Rest cafe was a welcome sight, as was the warmth of the fire as we placed our orders. In fact the fire was so comfortable that there was some reluctance to leave.
A quick vote (or a Straw poll as some might say) ruled out returning via Nunburnholme Hill, instead heading for Burnby then Londesborough before tackling Intake hill and on to Market Weighton. We then followed our normal route back to Etton and Cherry Burton. Heading along the Kiplingcotes road to the top of Etton ramp a mini sprint ensued between the front runners, Steve, Pugwash and Mike. With a tremendous final burst of acceleration, kudos went to Ironman Mike.
A superb ride with enough hills to suit a mountain goat, but I'm sure there were a few tired legs by the time we reached home.