You say windy, I say windy let's not call the whole thing off. After a lot of humming and heying and hedging bets, we saw six Knights turn out at Market Cross. Pugwash was adopted as route master for the day after suggesting the Spotted Duck cafe as the destination, and he was the only one with a sextant!
Starting at the later time of 0945 to allow for Jim to join us put AndyS in a stew as he missed the message and waited in the cold from 0930. Seems like Jim is now in cahoots with Raymond to sow confusion. "It's windy today" said Matt, "I thought it was Thursday" said Jim. "So am I, let's have a cup of tea" responded AndyS. With that it was time to set off.
Our route saw us take the Weel road out to Tickton, much to the chagrin of AndyG who'd just battled his way from there against the wind in order to join us at Market Cross. At least the return was a lot easier as we cruised our way along with the wind assisting. At Routh we headed south towards Meaux.
As we twisted and wound our way along, the wind generally assisted but occasionally hindered until reaching the road to Benningholme. Then it was full gas as we breezed along. Speaking of gas, comedian Matt insinuated that Pugwash had added to the breeze by adding some odious gas. The proximity of the local pig farm had nothing to do with it he said.
From Skirlaugh we headed for Old Ellerby and passed Burton Constable. On reaching Moor Lane, the wind turned on the beam giving us a very strong broadside making it difficult to stay upright. Visions of our return journey began to sink in. The sextant worked well as we soon found out destination without hesitation or deviation.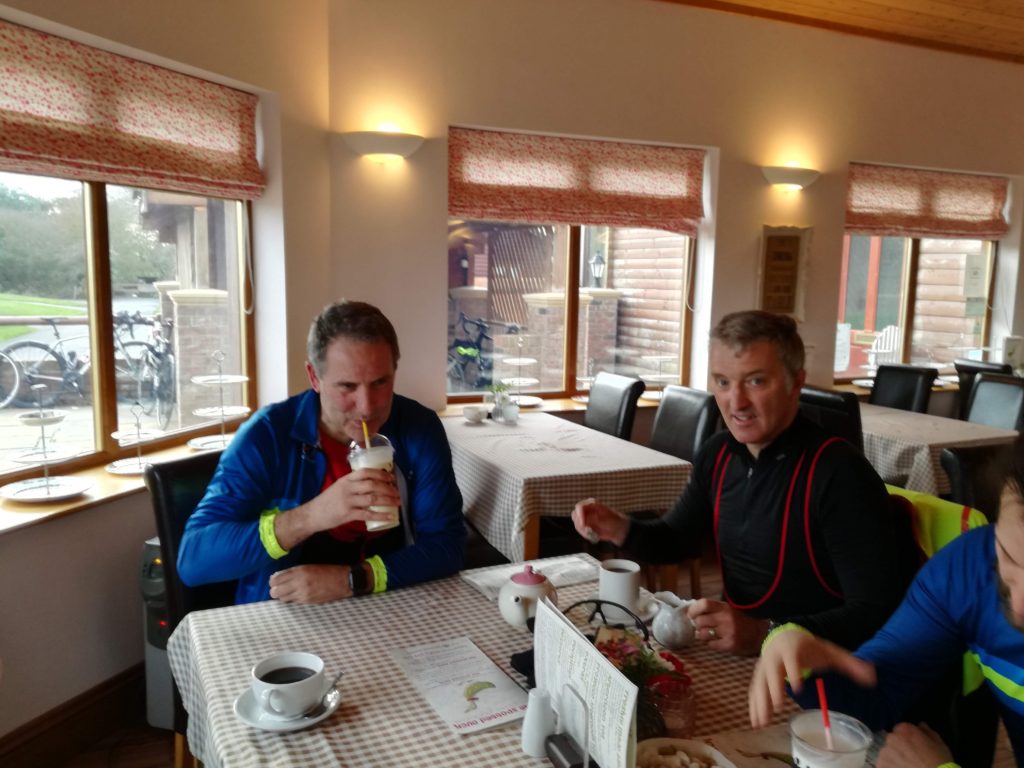 Matt's usual sugary laden latte was not on offer today so opted for the equally calorie laden milk shake. This poor example influenced Paul who chose the same. Unfortunately (for them) they both appeared disappointed with said choices. The rest of the fare however went down very well.
The navigationally challenged guy in the black top offered to lead the way back but was unanimously outvoted as we did not want to end up in Howden. Following the same road back till reaching Pasture Lane we then headed round the west side of Burton Constable.
The proposed chain gang for the return, did not work as envisioned as we virtually split into two groups before coming together again at Routh. The dreaded head wind took its toll but did not seem as bad as feared due to the twists and turns in the road and some shelter from roadside hedges.