Nine couples made it to the Market Cross ballroom for the later 10am start. In the absence of chief choreographer Neil, it was left to the "dancers" to decide how to proceed. Initial thoughts of heading to the coast were quickly dismissed when Chad appraised us of the conditions on his way in to Beverley.
Bell Mills cafe was chosen as the destination. First on the "dance floor" was James and his partner Boardman Comp with a waltz along Molescroft road. On reaching the Malton roundabout, the dancers split as some took to the cycle path while the rest continued on the main road. Leading the way on the main road was Mark with his partner Bianci as we quick stepped to Cherry Burton. Leaving the cycle path, James and his partner got their steps wrong resulting in them hitting the "dance floor". "It was a disaaaster dahling". Fortunately no real damage done as the only marks shown were on his jersey.
Doing the foxtrot from Cherry Burton, Etton and South Dalton was Chris with partner Felt alongside Matt and partner Focus Cayo. Mark then took charge of choreography showing how to cha-cha-cha our way over to the Bracken road and on towards Lockington. The group dance continued along the Kilnwick Percy Road leading the dancers to Driffield Road then towards Watton. Turning onto Church Road, Paul and his partner Cube said they were feeling deflated following a "wardrobe malfunction" forcing a short rest while he made necessary repairs.
After Watton, Pugwash and his partner Cannondale crept onto the floor with the American Smooth. Unfortunately Richard and his partner mistook the program for "Dancing on Ice" and performed their version of "The Bolero" ending in a heap on the floor, unfortunately bringing down Chris and Stephen in the process.
After checking the condition of the dance floor, it was decided to return to the main road. Mark then lead with a Jive into Driffield before taking the Skerne road to Bell Mills garden centre. Chris would have made Neil extremely proud when he bagged the bargain of the day after ordering a "Belly Buster" and cup of tea for just £4. It looked like a full breakfast in a bun.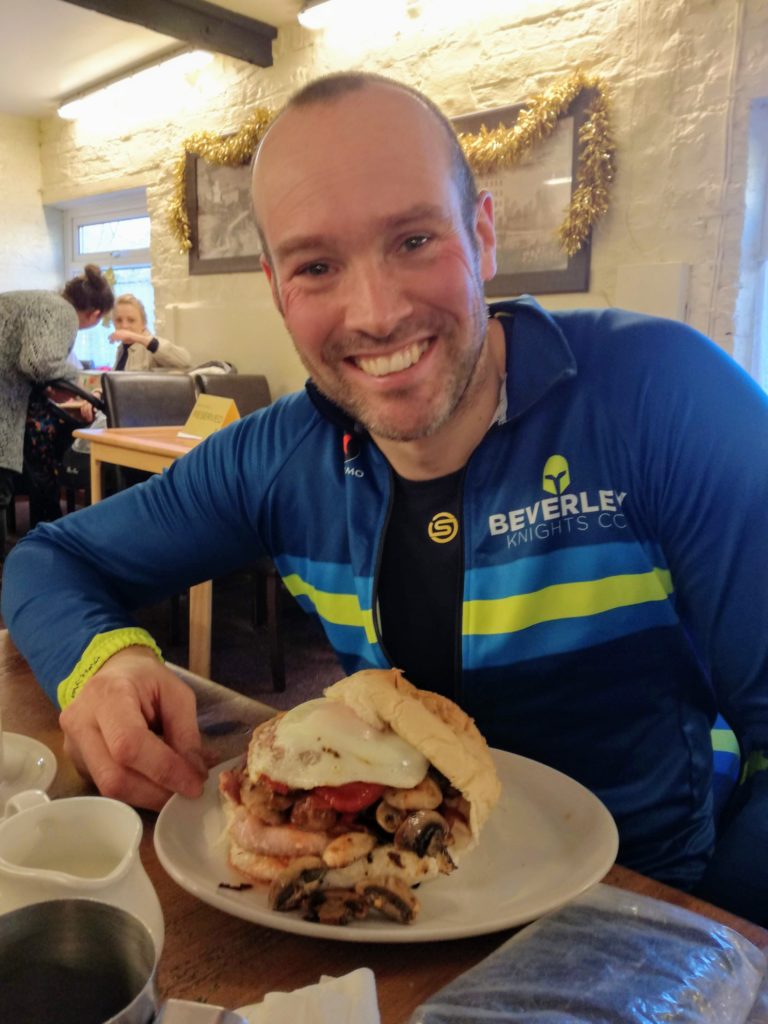 The return journey saw Pugwash and partner take the initial lead with a Samba to Skerne before Matt took over until Hutton Cranswick. Thereafter it was time for the "group dance" as we followed familiar routines over Bracken then back to South Dalton and Etton. At Cherry Burton, Paul had to call another break to check on his troublesome "attyre". Shortly after, it was Mark's turn to feel "deflated" as his "rear" went pssst. 🌬️😉
His temporary repair of filling the tube with gloop💩 did little to alleviate his situation as he had to stop again soon after to change the tube. Never an easy task on the side of the dance floor but made even worse with the temperature feeling like you're inside a fridge.
Ladies and gentlemen the judges scores are in. Fab-u-lous, Amay-zing, SEVEN from them! (Would be Ten without the ice)